Micro Total Hip Replacement
Putting The Spring Back Into Your Pet's Step
A micro total hip replacement from our skilled surgeons at Carolina Veterinary Specialists offers small dogs and cats with hip disease an opportunity to walk with confidence again.
Please Note: We require a referral from your primary care veterinarian before making an appointment for surgery.
Book an Appointment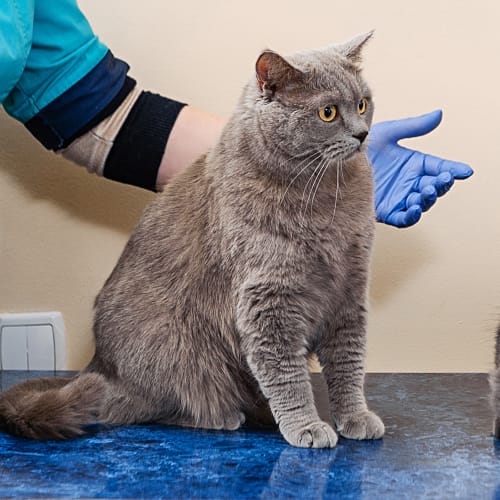 Relieving the Pain of Hip Disease
Micro total hip replacement (micro THR) is a revolutionary surgical option for restoring pain-free hip function to cats and small dogs suffering from hip dysplasia, osteoarthritis, or degenerative joint diseases of the coxal femoral joint.
Where once it was only possible to perform hip replacement surgery on medium to large dogs, nano and micro femoral stem and cup implants now make it possible for our skilled veterinary surgeons to perform this effective procedure on dogs and cats as small as eight pounds.
Is My Pet a Suitable Candidate for Micro Total Hip Replacement?
If your pet weighs less than 25 lbs and has been diagnosed with a painful hip condition, micro THR by our board certified veterinary surgeons may be the ideal way to restore your pet's comfortable mobility and improve their overall quality of life.
What is Total Micro Hip Replacement?
Micro THR is a surgical procedure performed on cats and small dogs suffering from hip pain. During this surgery the painful joint is removed and replaced by a state-of-the-art artificial hip joint, relieving pain and restoring normal biomechanical function.