Patellar Groove Replacement
Restoring Your Dog's Pain-Free Mobility
Patellar groove replacement surgery at Carolina Veterinary Specialists in Charlotte, can be an effective way to relieve your dog's knee pain and restore their zest for life.
Please Note: We require a referral from your primary care veterinarian before making an appointment for surgery.
Book an Appointment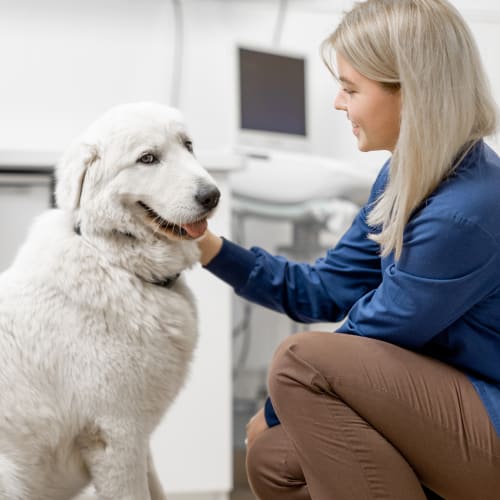 Why Does My Dog Need Patellar Groove Replacement (PGR)?
If your dog's knees are healthy, as they walk or run the patella (kneecap) will travel effortlessly along the patella groove, located at the bottom of your pup's thighbone.
Patellar luxation is a degenerative condition characterized by the kneecap popping out of the patellar groove, resulting in immediate pain, ongoing  deterioration of the patellar groove, and the development of osteoarthritis.
A PGR device surgically implanted by our board-certified veterinary surgeons restores the patellar groove, providing increased stability and, in many cases, eliminating knee pain.
Depending on the severity of your dog's knee issue, when combined with other restorative techniques, PGR can help to relieve immediate discomfort as well as prevent the development of further knee issues.
Board-Certified Veterinary Surgeons
At Carolina Veterinary Specialists we provide pets with advanced diagnostics and treatment not typically available at a standard veterinary clinic, including complex orthopedic surgeries. From pre-surgery assessments to surgery and follow-up, our team of board certified surgeons have the expertise and training necessary to provide your beloved pet with unparalleled care.
What is Patellar Groove Replacement?
Patellar groove replacement (PGR) is a partial joint replacement surgery that can be used to address knee pain in dogs caused by degenerative joint disease or patellar luxation.