Veterinary Ophthalmology in Charlotte
Eye Care for Cats & Dogs in Charlotte
At Carolina Veterinary Specialists in Charlotte, our board-certified veterinary ophthalmologist offers eye care services to diagnose and treat your pet's eye conditions.
Please Note: We require a referral from your primary care veterinarian before making an appointment for eye care.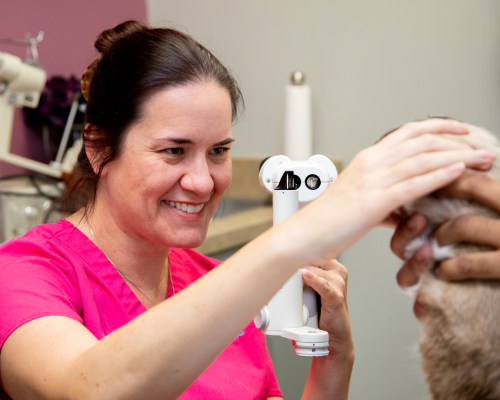 Our Ophthalmology Services
Our board-certified ophthalmologist specializes in treating eye diseases and disorders in pets.
We work closely with your pet's primary care veterinarian to provide care for all ocular diseases that may be affecting your pet. Some diseases will require surgery, but many can be managed with medication.
At Carolina Veterinary Specialists in Charlotte, we diagnose and treat virtually all eye diseases and conditions, such as:
Cataracts
Injuries
Drainage
Infections
Vision Loss
Tumors
Glaucoma
Dry Eye
Eyelid Issues
Board-Certified Veterinary Ophthalmologist
A board-certified veterinary ophthalmologist undergoes advanced ophthalmological training that meets American College of Veterinary Ophthalmologists (ACVO) guidelines for specialists. This includes the successful completion of an internship, residency program, and rigorous examinations.  
Examination & Diagnosis
Our new patient exams include the following:
Slit Lamp Biomicroscopy, which evaluates the front of the eye
Indirect Ophthalmoscopy, which evaluates the back of the eye
Tonometry, which checks intraocular pressure
Schirmer Tear Testing, which checks tear production
Fluorescein Staining, which is used to evaluate the corneal surface
Based on your pet's examination, additional diagnostic testing may be recommended. This might include ocular ultrasound, electroretinography (ERG) or gonioscopy if your pet is at risk of glaucoma.
Our ophthalmologist will review the examination results and create a treatment plan that is tailored to your pet's needs.